Whenever I see the bedrooms in ads and movies, I am inspired to redo my room. But then, I find my books, laptop and put off the work to another day. Over time, I researched a lot about redoing rooms and came across some really wonderful ideas.
I haven't done any of them due to my exams. The walls are covered with Accounting Standards, various sections in Corporate Law, Standards on Auditing & Strategic Financial Management formulae. To add to the misery, I have white patches where I pulled of the Sellotapes and the room looks like it needs some itch guard! I decided to compile a list of tips to redo your room.
Thermocol and cloth covering – This is quite simple to do. All you need is two or more cloths with different designs and compatible colors. Cut out the thermocol as per your requirement and cut enough cloth to cover each piece of thermocol. Arrange them as you wish and you have a fantastico wall art! You can have 3 huge pieces of thermocol coverings or nine small pieces. It all depends on your imagination and color sense.
Click here for the source of images above and for tips to prepare the coverings.
Tissue work – If given the right shade, preferably a metallic one, in the right side of the room and if supported with the right wall pieces, this artwork would look majestic! My neighbour has given a hot pink metallic shade on their tissue work and placed a  milky-white clock on it. Nothing else! Just the hot pink quirky background and the contrasting white. It gives a peppy look to the room.
Click here, for source of this image and tissue work tutorials.
Spray Painting – Another variant of Thermocol covering. You don't have to be super talented or sturdy handed. The image below might look complicated. The work is actually easy-peasy! It simply involves use of leaves and flowers or any such designs with perforations to be used as stencils. Once you are done with the painting, frame them and hang them in the living room to give a chic & peppy look!
Click here for image source and tutorial on how to make spray paint wall art.
Bottle Painting – Isn't painting on bottles though painted bottles can be used to decorate your room. This is painting with bottles. A child's play, you could involve the entire family in this work, specially the children. It not only beautifies the room, but it lets you interact with your family and make a memorable day out of it sans cell phones, laptops and any sort of gadgets. The room will be a memoir of your lovely times together.
Click here for image source and tutorial on how to paint with bottle.
Bottle & Lights – You must have come across this already and let me guess. You are already dying to have one of these in your homes. I have the bottles and the lights ready. I just need to get rid of my books that are everywhere. It is simple, elegant and beautiful. You can also paint the bottles and then fill the lights. What more can I say? Let the pictures do the talking.
Click here for image source and tips on how to go about this.
Wall Decals – Here is a very simple method to beautify your room. I don't have to write it down, yet I'm doing it in case someone has not thought of it. Paint your room or one side of your wall with your favorite color. Purchase these wall decals, you get online in almost every site and stick them. You get them at prices as low as INR 199. Before sticking them, you can find umpteen tutorials on youtube as to how to go about the work. You may refer them just to be sure.
Stencil Work – It was around a couple of years back that I realised that we get to buy wall stencils. Asian paints sent me some of them for a contest and I must say, they are adorable. You can easily place them on the walls and paint or even use a spray paint for the blurred effect.
Here is an image of a stencil. You can find them on Indian sites too. In the picture, you can see that a wall decal has been put up and the stencil work has been done around the same.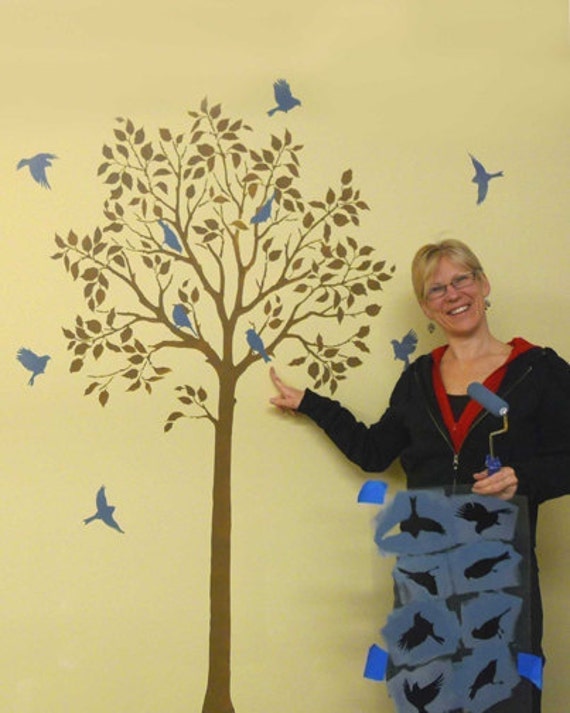 Courtesy: etsy.com
The list isn't exhaustive. You can make light shades of your own, do acrylic paintings, easy ones directly on the wall and what not!? The possibilities are endless. There certain things to keep in mind:
Ensure that the room doesn't look dull after the makeover.
Ensure that the colors used are compatible with each other; whether it is between the background and the artwork or amongst adjacent walls.
The room shouldn't give you a negative or crowded feeling in the end. The purpose is to make it pleasurable livable.
If you love these tips and plan to try them out, do leave a picture after the makeover. Also your suggestions, comments, feedback, opinions and criticism are welcome. 🙂
This blog post is inspired by the blogging marathon hosted on IndiBlogger for the launch of the #Fantastico Zica from Tata Motors. You can apply for a test drive of the hatchback Zica today.