This post was written by me for freshticles.com
Picking gifts for women is easy. The choices are plenty. But if your woman has something in mind, God help you.

Jokes apart, I have always noticed that people struggle to find the right gifts for their men. There aren't many gifts suited for men, they say. If you know your man and his tastes, there are plenty of gifts around; some expensive, some time consuming and some both. You just have to put the efforts to know his likes and dislikes, do some research and Voila! You can give him the most romantic gift.
Let me spare you the efforts for research. Here are some fabulous gifts you could present to your beloved this Valentine's Day:
THE USUAL
1. Wallet – Always a safe gift in case you are unsure as to what to get him. Some of them don't even notice if their wallets are torn, tattered and faded. If you are observant enough, you could gift a wallet as your token of love. It shows that you have given it a great deal of thought, taken interest in knowing what he has and chosen wisely. A good quality wallet would last for a very long time – A reminder of your love.
2. Cologne – If you know what he uses, you could get him the same cologne. But I'd suggest otherwise. There are many shops that helps you choose the right cologne after taking a whiff of the same. If chosen with care, he would love this gift for the smell will always remind him of you.
3. Photo Frame – Get a lovely frame, develop the photographs of some of your happy moments together, pick the best and gift the frame. This is a gift that never gets old. Photos from your phone could get formatted or deleted. But the photo in the frame will never go missing. If the picture has a story behind it, great! You would have framed & gifted a happy event in life
4. Watch – Like wallets, good quality watches last long and having more than one doesn't hurt. Because, a watch from your love is much different from a watch you bought for yourself. If he has a watch with chain for straps, get him one with a leather strap or even a luxury watch if you could afford it.
THE UNUSUAL
5. Neck Tie – This is something most of the people take for granted. Because in most of the workplaces, a neck tie isn't mandatory. But there are those rare occasions when he has to wear one. What then? The only tie he will have, and will be grateful for, is the one you will gift him. Find a sexy tie that would go with most of his shirts and surprise him. I'd add to opt for silk neck ties. They are sexy, classy and they add a certain zing to men's appearance.
6. Jewellery – Don't be surprised! There is definitely something sexy about those heavy metal bangles named kada that men wear. And some of them do look smoking hot with those ear studs. Heavy rings, chains and pendants! Name it and some of them can pull them off in style. You know your guy. Find the unique jewellery that suits him and if he is adventurous, gift him.
7. Men's Grooming Kit – I always stalk the site Happily Unmarried and linger in the men's grooming section. If I were a guy, I would have tried their Ustraa products which comprises of shaving cream, after shave, face wash, hair wax and much more. Here is what you can do:
Buy a few of their products, make them into a kit and gift them.
Opt for their subscription plans starting at INR 1900 whereby, the products would reach you in 3 shipments as and when you prefer.
Go to the option 'Gift your man' and choose from the said options.
They have lots of tempting flavors to choose from. This will definitely be unique compared to the same old brands he uses.
8. A Rooftop/Cande-light Dinner – Why not? Why should he be the one to take you out for a dinner? For a change, why don't you surprise him? They will never say so. But they love surprises as much as you do. Book a table at a restaurant that offers a rooftop/ candlelight dinner or both and ensure that he makes himself free in the evening. Do your thing woman!

Even better, you could arrange a candlelight dinner at home. With his favorite dishes, some decorations, the mellow lights and a ravishing you, he is sure to be blown off.
9. Passion Related Gifts – Every person is passionate about something or the other – Cars, bikes, books, movies, sports, video games, poems, arts such as painting, music, concerts, his job and so on. Who would know them better than you?
Does he love biking? Get him a jacket or gloves
Painting? Get him some canvas, good quality brushes and paints.
Reading? Well, you know what to do!
Music/ Concert? Get him concert tickets or his favorite musician's CDs.
He loves his job? Get him work related gadgets or tools.
Fueling a person's passion is the best gift that he could get. Along with constant support and encouragement, things like these will be a propelling factor for a person to pursue his passion.
10. Coupled Gifts – Gifts come in as pairs for couples. They include coffee mugs, watches, key chains, lockets, rings etc. They depict how the two of you are complete when together. You can find plenty of such gifts in shops like Archies or on online portals.
11. Sports or Exercise Gear – Reckon him telling you he needed an exercise equipment, gear or sports outfit? My suggestion would be an Activity Tracker. If your man exercises regularly or intends to do so, the Activity Tracker records the distance covered, calories burned, rate of heartbeat etc. You could always read up for more details, go through reviews and pick the best.
12. Beer/Champagne/ Whisky – I asked one of my friends what he would like for Valentine's Day (For updating in the blog) and he said, "Single malt whisky aged 10 to 15, on the rocks". Yes! That was very specific and I like that! So, for all the beverage lovers, if you haven't bought them a drink, take them by surprise and gift them a bottle of the finest beverage.
13. Favorite team/Fandom merchandise – Which football team does he support? What are his favorite Comic characters? Is he a fan of any book or TV series? If you answered yes for any of these, gifting merchandise relating to his interests will be a lovely idea. Fanboys and Fangirls take their Fandoms pretty seriously and I gather it is the same with Football or sports teams.
14. Magazine – Men like it if you give them something thoughtful. Does he have the insatiable appetite for politics? Or is he interested in keeping up with the latest fashion? If he loves reading in general, the famous general interest magazine Reader's Digest would be the best option which has a tinge of everything. Choose the right one and apply for an annual subscription.
15. Earphones/ Speaker – People who do not listen to music are rare. But when life keeps you running on your toes, you tend to forget about your interests. You don't give importance to those tiny desires because you are running behind the bigger ones. Good quality earphones or speaker is every person's dream. If your guy doesn't already have one, this would be the perfect time to gift him one.
CREATIVE, TIME CONSUMING GIFTS
16. A Love Letter – It is never late to write love letters. If you have written them before, you can do them now. If you can send long tests, talk over the phone for hours, all you have to do is curate your thoughts and put them down on a paper. You can either place them in his bag, wardrobe or any place whence he is likely to pick it up. You can even post the letter to your address and leave it there for him to find it. How about placing it in the mailbox yourself or asking someone else to deliver it? Letters never lose their charm.
17. Bouquet – Yes, you can gift him a bouquet. Pick flowers from your garden or from the flower shop, arrange them yourself and send it through someone or give it yourself with a handwritten note; perhaps the letter.
18. (Insert Number) Reasons I Love You –  Pick up a mason jar, cut out some sheets of paper, jot down the reasons you love him. Love needs no reason. But love is expressed through those little deeds. Write them down no matter how silly they are. Fill the jar with them and gift him. If he is a man who loves reading the written word, if he appreciates your efforts and could fathom your love from this gift, this is the perfect gift for him.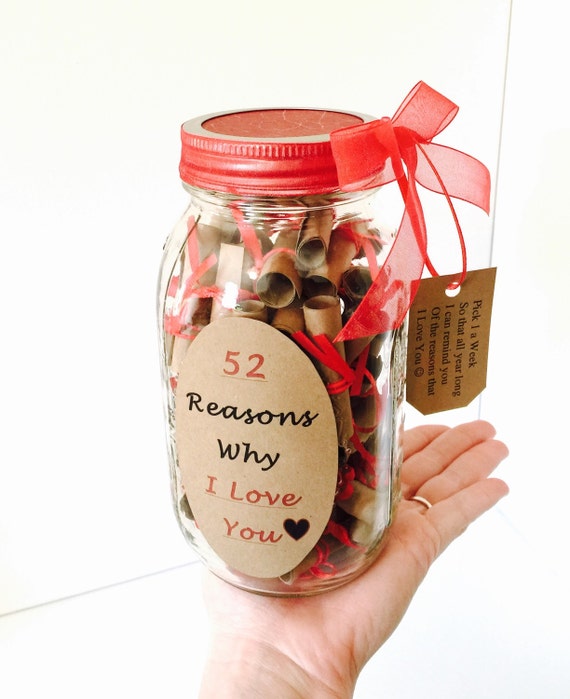 19. Open When Notes – These are notes placed inside envelopes. The intention is to give them a set of notes that they get to read in specific situations. For instance:
Open when you miss me
Open when you are sad
Open when you are happy
Open during a journey
Open when you are scared
Open when you feel lonely
Open when we fight
You can write things that would make him happier, that makes him forgive you when he is angry, to assure him that you are always with him when he is lonely and so on. If the envelopes are colorful and you tie them with a ribbon, you are good to go.

Image courtesies for the ones not mentioned: Amazon India.